THE MURREN MOORS
This is a Tunnels and Trolls adventure in the Castle Calahony series.
Start Calahony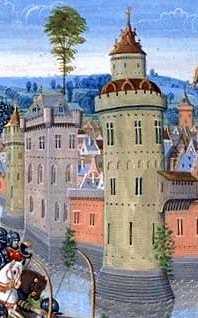 This adventure is situated in Castle Calahony. The King has entrusted the responsibility for this border castle to Knight Soren, who in his younger years has distinguished himself in many campaigns.
The castle is situated on the edge of the wild. The Mourning River is the border between the kingdom and the Mourning Mountains, home of the wild Mountain Orcs. These orcs often raid into the kingdom, and it is the responsibility of Knight Soren and his fellow guardians to garantee the safety of the border. Due to many raids the peasants are impovering, and the King is far away.
Knight Soren can no longer pay the tenths of soldiers of before. Instead, he now provides free hospitality to adventurers. In return for food and shelter, you have to assist Soren in keeping the country safe.
There are a number of threats:
bands of wild mountain orcs score the country;

an unknown evil has crept into the Murren Moors, and

the nearby town of Taluth seems to provide more and more room for the Sniff cult, which is seen as the driving power behind the Mountain orcs.
The castle rules state:
No worshippers of Sniff may lodge here;

Use of magic within the castle walls is limited to Amnihur, the castle wizard;

Hospitality is provided for periods of 1 week, or exact multiples;

You swear loyalty to Soren and his family for as long as you stay at the castle, you will follow all orders of Soren, his daughters, Amnuhur the wizard, and Just, captain of the castle guard;

Once expelled, you may never return;

You pay 2 gold pieces per week for food;

Treasure looted from Mountain orcs and Sniff priests belong to you.
After each day you will come back here. Please You may now leave or go to the Start.