THE MURREN MOORS
This is a Tunnels and Trolls adventure in the Castle Calahony series.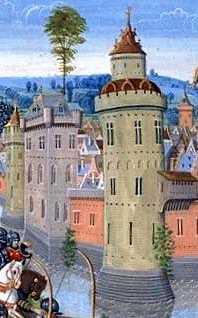 You visit Amnihur and tell him that you want to learn a spell, and that you are willing to pay for it. He offers you the choice of:
Learning a spell from the rulebook. For every week you have stayed at the castle, you pay 5% less then the listed cost. The minimum price is always 50% of the listed price. This applies to both wizards and rogues. He will not teach you spells above level 3, as he is an 8th level sorcerer himself and judges that to really understand a spell sufficiently enough to teach it, you must be five levels higher than the spell itself.
If you are wizard, he is willing to learn you a spell against undead. This spell is called 'Dig Your Own Grave'. It doubles the value of your sword only when used against undead (vampires, mummies, skeletons). Casting this second level spell costs 4 SP. It will cost you 800 Gps to learn this spell.
If you wish, pay and depart.

If you don't go to sleep and start the next day fresh.